Cyber Management Alliance (CM-Alliance) is delighted to announce that they are bringing their UK Government GCHQ-Certified Cyber Incident Planning & Response (CIPR) training to India.
Taking place in Delhi, Mumbai and Bangalore in April, the course, for which CM-Alliance are offering an 'Early Bird' 30% discount to ISACA and ISC(2) members, will provide you with the tools to prepare a defined and managed approach in response to data breaches or cyberattacks.
Why India?
In recent months, cybercrime in India has hit the headlines and the country has emerged as one of the primary targets for cyber criminals. Cybercrimes that were registered under the country's IT Act increased by nearly 300% between 2011 and 2014, according to a study, mainly due to the rise in Internet and smartphone use. In 2016, India suffered a major cyberattack that affected millions of debit cards and a report on national security for the country reported that nearly 41% of companies had been the subject of a data breach. With rise in digitisation throughout the country, it is forecast that these numbers will increase.
Last year, hackers managed to access the systems of three government-owned banks – two in Mumbai and one in Kolkata. Kaspersky Lab recently reported on their study that discovered global financial cyberattack figures has risen by 22.49% in 2016; with India being in the wake of demonetisation, the country will continue to be a target.
According to Cisco's 2017 Annual Cybersecurity Report, over a third of organisations experiencing a cyber breach in 2016 reported the loss of customers, opportunity and revenues of 20% or more. The report also discovered that spam accounts for 65% of total emails, with 8% of these spam emails being malicious.
Amar Singh, CEO and founder of CM-Alliance, who will be hosting the CIPR course, is excited to be bringing the course to India. He says:
"I am really keen to bring our GCHQ-Certified CIPR training course to India, helping organisations and businesses to understand why it's critical to respond to an incident, providing them with the tools and knowledge to develop a strategic response plan to incidents, and raise awareness of cyberattacks in the country. It's very exciting and I am looking forward to it immensely."
Bal Rai, Managing Director of CM-Alliance, added:
"The course is an excellent way to learn more about planning your organisation's response to a cyber incident. Our CIPR course is the only one that is non-technical management focused and GCHQ-Certified. We are pleased to bring this course to India in April and are offering a 30% discount to all ISACA and ISC(2) members that book their place before 1st April 2017."
The CIPR Course
The popular Cyber Incident Planning & Response (CIPR) course, which previous participants such as UK police forces, the Swiss National Bank, Repubblica e Cantone Ticino, UBS Card Centre, Thurgauer Kantonalbank, Zurich Kantonal Bank and Liechtensteinische Landesbank AG have enjoyed, is run over two days and has been developed for non-techies, as much as the techies, to ensure that senior management and business executives are able to learn about incident response, and helping them to prepare and plan for potential cyber threats. The course focuses on the basic concepts of a cyberattack, breaches, threat intelligence and intelligence-led testing and will include:
The key ingredients to designing and implementing a response framework.
Building an effective cyber response team.
The overall legal implications of getting it wrong.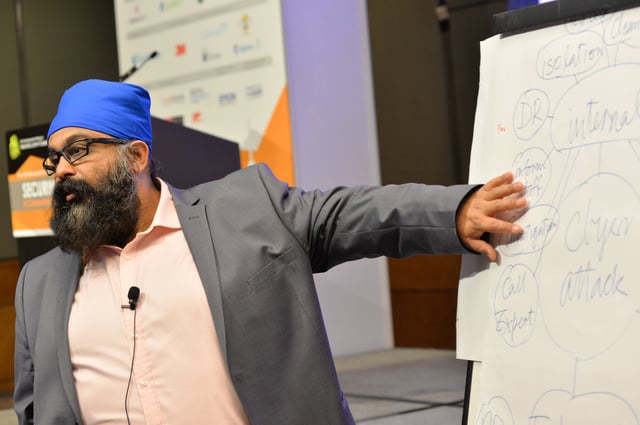 Delivered by Amar Singh, a trusted business and cyber security advisor, GCHQ-Certified trainer, mentor to C-level executives, global CISO and industry thought leader, Chair of ISACA's UK Security Advisory Group, and consultant to organisations worldwide, delegates will learn a wide range of cyber security measures including:
The latest techniques and insights on incident response.
Threat intelligence-led testing and response frameworks that have been adopted by governments and institutions.
Planning and preparation of attack components; infiltration and post-infiltration entrenchment.
Identification, exfiltration or manipulation of data balance of identification; exfiltration versus manipulation; pre-attack research, reconnaissance and target selection.
SIEM, analytics and entity-based anomaly detection and how to use it for an effective response.
Designing an early warning system to lower discovery time; create actionable plans and checklists to use today.
Understand, define and baseline 'normal' within an organisation. Stop up to 90% of all cyberattacks in their tracks and before they breach critical data.
The 'golden hour' and why it's critical to managing an incident.
The latest techniques in ZEROConfiguration SIEM and relevance to detecting anomalous behavior.
The basic application of incident triage, OODA and the Diamond Methodology.
Delegates who have enjoyed the course and learnt more about cyber security include Anoop Premanandan of Abu Dhabi Commercial Bank who said of the CIPR course:
"This has been a very informative session for me. I have a lot of takeaways which I am hoping to implement in my work. It's been an excellent day. Thank you!"
Kinshuk De, Head of Business Operations at Enterprise Risk Tata Consultancy Services, added:
"I was part of the CIPR program by CM-Alliance. I think it gave me a very, very good and well-rounded approach on security. Amar brought in a lot experience, case studies, covered the key issues of privacy, regulations globally. His whole way of connecting this program was exceptionally good. I really enjoyed and I think he is fantastic, fabulous. Thank you very much."
Jose Mohan of the Government of India commented:
"It's a wonderful course and I really enjoyed it, especially the way he handled the course so that it was in simple ways so that all of us could understand. It gave me a very good perspective of cyber security and the national events he covered, the aspects of legal security, the most important aspect of authentication and access, and my own interest of privacy and legal issues. I think it's a very useful course and it gives you a much bigger and broader perspective. Thank you."
The dates of the course are:
14th & 15th April 2017 in Delhi
17th & 18th April 2017 in Mumbai
20th & 21st April in Bangalore
Secure your seat at the Cyber Incident Planning & Response (CIPR) training in India by completing the booking form now, and get your 'Early Bird' 30% discount when you book before 1st April 2017 (applicable to all ISACA and ISC(2) members only).
For more information on Cyber Management Alliance's CIPR (Cyber Incident Planning & Response) course, contact us today.