Wisdom of Crowds returns with a successful post-pandemic event in London
Date: 5 July 2022
Cyber Management Alliance's Wisdom of Crowds events have come to be a hallmark of the collaborative spirit of the cybersecurity industry. The first, post-pandemic Wisdom of Crowds (or Woc) event in London on June 15, 2022 was the perfect manifestation of this spirit and everything that these events stand for.
Some of the foremost cybersecurity professionals and businesses got together for a really stimulating and productive gathering. Hosted on June 15, 2022 at the Sofitel London St. James Hotel, the event brought together cybersecurity practitioners, IT professionals and top vendors under one roof to discuss everything 'cyber'. The event ended up becoming a vibrant day of knowledge sharing as well as networking.
The overarching theme of the London WoC Event was "Cybersecurity Strategies for 2022" and all the discussions, addresses and group interactions focussed on how the industry can collaborate and innovate to improve detection, response and recovery times. The event sponsors were CyCognito, Cymulate, Juniper Networks, E2E Assure and Link11.
The day began with a quick introduction and review of the last 2 years in cyber by the CEO & Co-Founder of Cyber Management Alliance, Amar Singh. In his signature interactive style, Amar broke the ice, got people chatting and made sure everyone felt involved and geared up to participate through the rest of the day.
The introduction made way for the signature Wisdom of Crowds group interaction - one of the most exciting elements of these events where all the participants get together to discuss ideas, solutions, challenge each other, and share new perspectives. The group discussions at Wisdom of Crowds are unlike any other and this year, the group sessions were particularly energetic and powerful.
Speaking on the success of the event, Amar Singh, said, "It was great to be back in the presence of our friends and peers who are some of the top IT & Cyber professionals in the world. The energy was reflected in the quality of discussions and interactions we had with the participants. I would say the event was a huge success and we look forward to hosting many more Wisdom of Crowds events going forward, because as I always say: The Wisdom of many surpasses the ability of a few to solve a problem or challenge."
The team from CyCognito: Meir Asiskovich - Director of Product Management, Aisling Scallan Macrunnels - Chief Growth and Strategy Officer, and Graham Rance - Director of Sales Engineering delivered a keynote address jointly, titled: "When Offence Becomes Your Best Defence."
Cymulate's Greg Baylis spoke about how any security team can leverage Extended Security Posture Management to customise, scale, and automate the day-to-day security practices.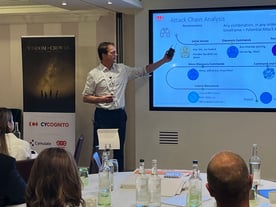 E2E Assure's Rob Demain shed light on how most organisations don't have the resources to build and nurture an effective SOC. He showed the audience the hidden value proposition of a Hybrid SOC and how it can help organisations fight even the most pernicious cyber-criminals.
The need to protect data & apps has never been more critical. But we must also ensure that apps remain accessible when needed. Laurence Pitt of Juniper Networks discussed strategies to ensure this and more in his address 'Zero-Trust Data Centre'.
Finally, Link11 concluded the day with their keynote address on DDoS attacks and how we, as a community, can fight back against the next-generation of cyber-threats. The address perfectly summed up many of the themes addressed during the day and was a fitting end to a stimulating day.
The keynote addresses were interspersed with interesting group sessions led by Amar Singh. A twist on the traditional panel discussion was made all the more fun, stimulating and engaging with leading volunteers in the room. Two of the main subjects that were discussed in these group activities were:
Is working from home good or bad (particularly in terms of security)?
Is it a good idea to hire a cyber-criminal to fortify your cyber defences?
The answers and points of view that emerged from these discussions were interesting and even eye-opening in certain cases.
Speaking on her experience with the 2022 WOC event, Aisling MacRunnels, Chief Growth & Strategy Officer, CyCognito said, "Not only have we not been to many events lately, so it was really invigorating to get back in person - which was wonderful. But even more so what stood out was the authenticity of the event. People came ready to engage and then on top of that I found that Amar's questions were provocative and so they created a great level of conversation. It was very unique and different. You know we can go to some of these events and you feel like people are talking at you. This very much felt like it was the 'Wisdom of Crowds' where everyone was speaking with each other and addressing critical topics. So it was really stimulating."
Meir Asiskovich, Director of Product Management, CyCognito, added: "I really enjoyed that we came to share something new and new technologies and new opportunities. I feel like I learned much more than I thought that I would and it was a great event."
Whoever believes that cybersecurity is a dry subject would have indeed changed their minds after witnessing the lively participation in these sessions.
Find out more about becoming a delegate and/or sponsor at the Wisdom of Crowds events.