Cyber Crisis Tabletop Exercises
Defining a Cyber Security Tabletop Exercise
The Cyber Incident Response Tabletop Scenario Exercises designed and run by CM-Alliance is a unique blend of verbal and visual simulation along with interactive discussions on an agreed cyber-attack scenario relevant to the organisation.
Our cyber incident response tabletop scenario exercises are:
We are a UK Government Crown Commercial Service Supplier (G-Cloud 12) and the Cyber Crisis Tabletop exercise is listed on Gov.uk Digital Marketplace here.
Why run a Cyber Tabletop Exercise
On the topic of tabletop exercises, Amar Singh, the CEO of Cyber Management Alliance Ltd puts it very succinctly.
"Documents that have never been read, procedures that have never been practiced, checklists that have never been verified are as useful and functional as having a brand-new mobile phone with no charging cable or power adaptor."
Amar Singh, CEO, Cyber Management Alliance Ltd
Remote or Onsite Exercise? We can run a full cyber incident response tabletop scenario exercise either remotely or onsite.
The only way you can determine if your incident response plans will work during a real crisis is to test them with a data breach tabletop exercise template. At CM-Alliance, we believe that practice makes perfect when it comes to cyber crisis management. Running practice cyber scenario response workshops:
Benefits of a Running A Cyber Incident Response Workshop with CM-Alliance:
We are one of the world's leading independent cyber incident & crisis management authorities and creators of several courses and workshops in cyber incident response and planning, playbooks and crisis management.
Benefits of partnering with CM-Alliance to host your testing tabletop exercises include;
"I would recommend Cyber Management Alliance's tabletop workshops to anyone genuinely interested in being on top of their cyber incident response strategies. The format and style of conducting the entire workshop is what I found a lot of value in. Most importantly, the scenarios on which the workshop was based were relevant to the business, making the exercise a great investment of time and resources."

Mudassar Ulhaq - Chief Information Officer - Director
Investment Management, London, UK
Our Approach to Cyber Incident Response Tabletop Workshops
We take a structured approach to planning and running our tabletop exercises and have a straightforward process.
Fact Find:

We start with gathering as much information about your business, its stakeholders and its critical assets.


Scenario Planning:

After assessing the inputs we move on to planning and outlining the data breach tabletop exercise template and scenario and follow that up with a dry-run with you.


Cyber Crisis Tabletop Exercise (CCTE):

During the tabletop exercise we facilitate the workshop and monitor the pace and substance of the discussions.


Management

Report: After the exercise we produce an objective and detailed analysis of the exercise and provide a formal maturity score.
The image below describes, step-by-step, how we approach our cyber testing workshops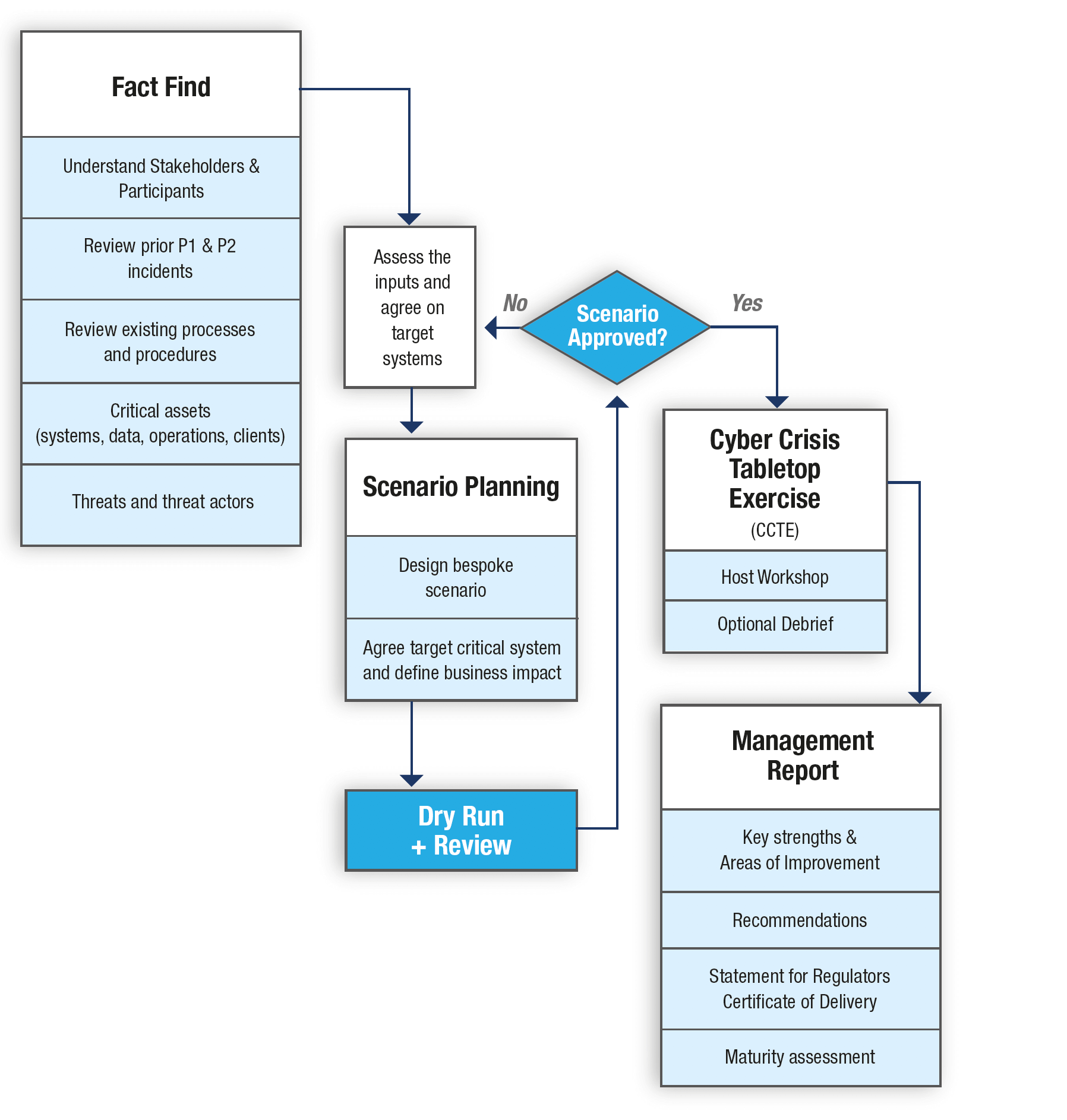 Formal Maturity Report and Presentation:
After the tabletop exercise based on a data breach tabletop exercise template you receive a formal executive summary and report that contains:
A formal assessment of the exercise on a scale of 1 -5, scored against 10 different areas.
A score of your organisation's breach-readiness for the cyber-attack scenario.
Analysis of the existing processes, procedures and their effectiveness during the tabletop exercises.
Participants:
We offer both management focused and technical tabletop exercises and recommend the following participants for both audiences:
Staff responsible for making critical decisions.
Staff who are either heads of their function and or fully understand how the department operates.
For management exercises, there must be representation from all functions like PR, communications, legal, HR, sales, and marketing, to name a few.
Technical staff who know the systems and processes.
If relevant, representatives from key service providers
"The CCTE and corresponding audit conducted by Cyber Management Alliance Ltd was expertly delivered and has given us insights to reinforce our cyber strategy by continuing to help build the picture of where we were, where we are now and our next focussed steps. We will be engaging CM-Alliance on an annual basis."

Neil Mallon - Strategic Technology Leader
Aster Group UK



Why Cyber Management Alliance Ltd:
We are one of the world's leading independent cyber incident & crisis management authority offering advisory services, executive training, and bespoke workshops in all aspects of cyber crisis management, incident planning, incident-response testing and tabletop exercises.
We are the creators of the internationally acclaimed UK-Government's NCSC-Certified, Cyber Incident Planning and Response (CIPR) course and have trained attendees from organisations including the United Nations, UK Ministry of Defence, several UK Police Forces, NHS Trusts, European Central Bank, Swiss National Bank, Microsoft, Ernst and Young and many others.