We adopt the same rigour, discipline and evidence-based approach to all our assessments. In Phase 1 &2, we are in a 'fact-finding' mode and want to read and consume all the necessary information.
Although we speak to staff in Phase 1, we tend to have more meaningful discussions in Phase 3 as we are more informed and hence more prepared with the right questions.
For the SIEM and technology assessments, we prefer technology walkthroughs so we can get a feel of the setup, mode of use and configurations. We also want to see the use-cases 'in action' and have an analyst walk us through several random use-cases and related incident tickets. We want to get a feel of what a 'day' looks like for the operator of the technology.
We then finish the assignment with a management report.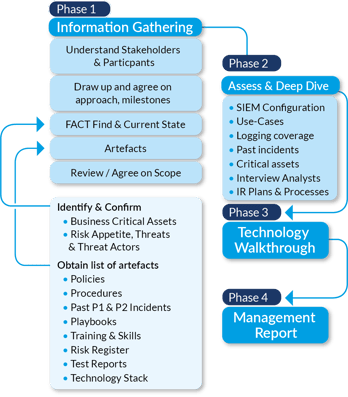 Sample SIEM & Use-Case Assessment Schedule
Please note this is an approximation and the actual effort may vary depending on the client, the size of the SOC, the number of analysts and other factors.