Cyber Management Alliance's Amar Singh took part in a lively and informative debate at Hacker Halted and Global CISO, EC-Council Foundation's annual information security conferences held in Atlanta, USA in September 2016 discussing "Security vs Privacy" and where the line needs to be drawn between respecting privacy and ensuring security.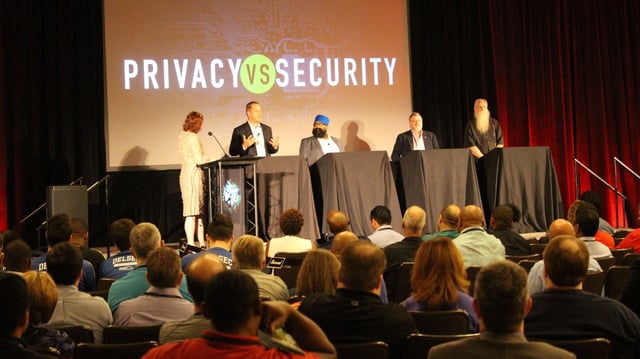 The theme for this year's event was the 'Cyber Butterfly Effect: When Small Mistakes Lead to Big Disasters', drawing attendees from countries including Australia, Egypt, India, Mexico, The Netherlands, Russia, South Africa, United Arab Emirates, United States and the United Kingdom.
TechFetch's job fair launched the event inviting attendees to network with companies that want to hire qualified information security professionals. In addition, EC-Council Foundation's Global CyberLympics winners were announced; Hack.ers, a team from The Netherlands, successfully defended their title for the fifth time.
Sitting alongside Amar Singh at the "Privacy vs Security" debate, moderated by Mitzi Hill, partner at Taylor English Duma LLP and a professional in cyber security, was Jack Daniel, a security researcher at Tenable Network Security, with Kurt Opshaul from the EFF and Steve Bongart, a retired FBI Special Agent. The discussions were compelling and covered the important issues around law enforcement responsibility, corporate security strategies, the privacy concerns of people and a hacker's perspective on where the line needs to be drawn.
At the conferences, Chiron ran a game over the two days testing the skills of hackers and Augusta Locksports hosted a lock picking exhibition where the physical security skills of attendees were tested.
Other speakers at the event included Samy Kamka, a notable hacker, entrepreneur and well-known whistleblower, who delivered a presentation titled, "The Less Hacked Path", and Jack Daniel whose presentation focused on the modern security landscape.
Feedback for the event was very positive with comments including:
"Really pleased with the quality of the speakers. It was wonderful!"
"Best conference I've been to so far. Had some great conversations and met some great people, and the location was convenient for me."
For more information about Amar Singh and how Cyber Management Alliance can support and improve your information security and data privacy, visit our website – www.cm-alliance.com.
We look forward to seeing you at next year's event to be held in October 2017 in Atlanta, USA. Visit hacker halted.