Amar Singh and Cyber Management Alliance worked with Infingate UK, the organiser's of the annual one-day V.SEC Conference held at The Grand Connaught in London on 22nd November 2016. The popular networking conference brings together security and IT professionals worldwide to learn how leading security solutions are developing to deal with the latest vulnerabilities and threats faced by enterprises today.

CISO Panel Discussion
Cyber Management Alliance organised a CISO Panel Discussion with speakers that included Dr Adrian Leung, Head of Information Security at Catalyst Housing Ltd, Avtar Sehmbi who is Global Head of Global Banking and Markets ISR at HSBC, and David Prince from the UK Government Department. The panel discussion was led and moderated by Amar Singh, CEO and founder of Cyber Management Alliance, and Chairman of ISACA, the discussion covered the following areas:
The best combination of technology, process and people to lower the possibility of a data breach.
How to effectively convince the Board that DLP is a real threat, and the need to invest in their DLP strategy.
The evolution of DLP technologies.
What customers want; what customers expect.
What works and the measures to avoid.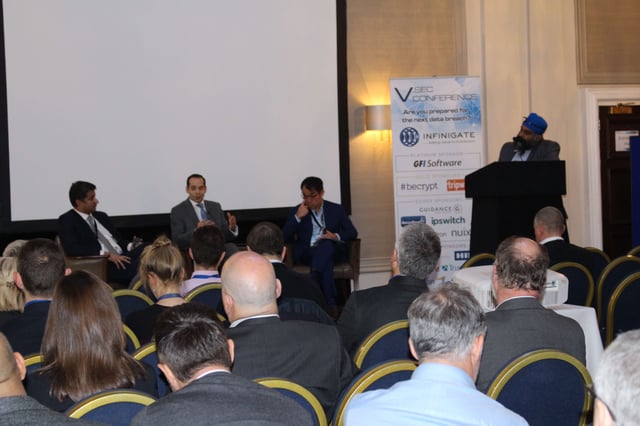 Closing Keynote
In addition to moderating the CISO Panel Discussion, Amar Singh also gave a closing keynote presentation, "Selling Security – a CISO's Viewpoint". Cyber security vendors are often unfairly judged and accused of spreading fear and doubt – or FUD: Fear, Uncertainty and Doubt – leaving many vendors tarred with the same negative brush of "they only want to flog their products" or "they don't really know our requirements". Amar shared his valuable insights, tips and tricks on how best to present your solutions and services to CISOs instead of dealing with blocks to any interaction with end customers, the CISO.
The conference hosted over twenty sessions presented by international cyber security professionals, CISOs and experts, including insights from V.SEC's Advisory Board. Attendees were able to hear from Cyber Management Alliance, HSBC, Channel 4, US Secret Service, Tripwire, Radware and more on how to best protect your organisation from potential threats and data breaches.
Testimonials from attendees included:
"A well-thought out and organised event, great range of speakers and thought-provoking content. I especially liked the industry expert discussion." David Perkins, Sales Manager, Level 8 Solutions.
"I thought the expert panel discussions were particularly interesting. To have a room of peers and thought-leaders talking openly about challenges, opportunities and trends was hugely beneficial." Pete Sherwood, Managing Director, Infosec Cloud.
"A well-rounded agenda with lots of interesting sessions from industry experts. The social and networking events were highly valuable too." Emma Aspinall, Account Manager, Computacenter UK.
For more information on Cyber Management Alliance's security training courses, events and consulting services, visit our website or contact us today for more information.
=