Cyber Management Alliance, the leadersin information security training and consulting worldwide and silver sponsors of the Cyber Security Challenge UK Masterclass,recently attended the Masterclass dinner held on 4th November 2016 that crowned student, Ben Jackson, as the 2016 Cyber Security Champion, the youngest ever at just 18 years old.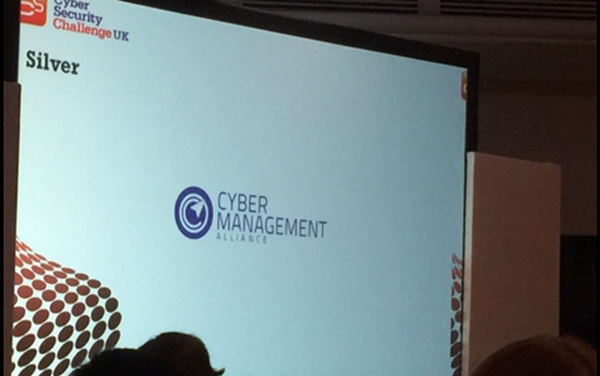 Cyber Security Challenge UK Masterclass 2016
The Cyber Security Challenge UK, the premier cyber skills competition, works with top cyber security organisations to design and run a programme of competitions that tests the skills learnt by participants which companies are looking to employ in the future. 2016's Challenge was created in alliance with PwC and supported by GCHQ, the Bank of England and NCA.
The Masterclass grand finale took place in Shoreditch, London with 42 finalists competing in front of cyber security experts who assessed the contestants and ranked their performances against real-life job requirements. The candidates were firstly briefed by the CEO of Bolt Power, a fictional power company that had found suspicious activity on their IT network, and suspected a potential data breach.
Split into teams, the candidates were given the profiles of potential employees that could have caused the attack and were expected to launch a technical investigation. Using the same tools that are used by professionals today in order to carry out their investigation, they also had to abide by real-life ethical practice and rules with live updates from Bolt Power's board and government agencies. At the same, they were subjected to hacktivist groups launching real-time cyber-attacks to try and disrupt the contestants' investigations. The 3-day Challenge ended with a presentation to Bolt Power's board, made up of government figures and senior PwC professionals.
The Masterclass Dinner
The Masterclass dinner, which Cyber Management Alliance were delighted to be Silver sponsors and a part of the Challenge, was held in the evening of the third day and awarded the winner as Ben Jackson, an 18-year-old student from Bexhill-on-Sea in Sussex, and the youngest ever winner of the annual competition. Ben now has a choice of rewards from a variety of career-enhancing prizes including the best of today's new technologies, valuable industry training and university courses, and access to strategic industry events. This year's prizes were provided by Challenge sponsors that also included SANS Institute, De Montfort University, NCC Group, CompTIA, IISP, IAAC, Royal Holloway University, PGI, (ISC)2, Bsides London, CREST and Infosec Skills.
Ben commented on his win: "It's hard to put into words how I feel but I can say it's a complete privilege to win such a well-renowned competition. I'm frankly amazed that I've won. This has been a brilliant few days and a life-changing experience, meeting some great people along the way. I hope to now go on and pursue a career in cyber security, something which I really enjoy."
Stephanie Daman, CEO of Cyber Security Challenge UK, added: "This year's Masterclass has been one of the most immersive and realistic competitions we have ever staged. There are a huge number of cyber security jobs on offer, and simply not enough people to fill them. Competitions like these give talented individuals a safe environment to showcase their skills in front of organisations that are looking for new recruits." She added: "We would like to encourage any individual with an inquisitive mind, a passion for problem-solving and desire to learn, to sign up and try out our competitions. You could be the next Cyber Security Challenge Champion and secure the job of your dreams."
Stephanie Damon has also been interviewed by our very own Amar Singh for our exclusive Insights with Cyber Leaders Video Interviews (also known as IWCL Video Interviews). Stephanie joins a growing list of global cyber leaders including :
Andrzej Kawalec, CTO HPE
Abdullah Barwani, Director General IT, Oman
Ian Glover Founder, CREST
Andy Hodgson, CISO, Mundi Pharma
Adrian Leung CISO
For more information about Cyber Management Alliance and their range of cyber security training and management events, visit our website or contact us today.