The Truth about VPNs: Pay With Your Money, Not Data
Date: 24 May 2022
Look, we get it. You don't want to pay for a VPN. After all, who wants to add another subscription to the growing list of monthly payments?
Nowadays, everything's bundled as a service and sold for only a few dollars a month. This is great but left unchecked, it all really starts to add up.
It's so tempting to download a free VPN. But don't do it! Let us tell you why in this article.
With A Free VPN, You're The Product
Let's face the facts first - VPNs are not charitable organisations. Setting up and maintaining a server is costly for the provider. It's also not a one-time expenditure. ITASAP reports that a server will cost around $5,000 - $20,000 a month. A good VPN will have servers all over the world, and they are high-traffic servers, which would put them at the top of this range.
If you're not paying for it, it's because you're the product. This has never been more true than with a free VPN.
Data is precious. It's monetizable, and tradable and marketers prize your consumer preferences above gold. We sit at the cusp of deep learning and AI. Datasets like your online activity can be used to predict consumer choices at scale.
That intrusion alone might not bother you, but it leads to a greater problem which is that if a free VPN is recording all your history, they are storing it. If they are storing it, they can be hacked, and then you're at risk of identity theft and suspicious charges on your credit card.
The protection of a VPN is only as good as the encryption it employs. PPTP, which is outdated and has been broken for years, is the most prevalent form of encryption utilized by free VPNs.
Free VPNs Contain Malware And Inject Ads
A recent study found that 84% of free Android VPNs contain malware. That means that if you're using a free VPN on your smartphone, there's an 84% chance it will infect your device with malware.
This isn't some sort of theoretical scenario. In 2017, it was revealed that Hotspot Shield, a free VPN service, was stealing user traffic and selling it to advertisers.
The Federal Trade Commission (FTC) launched an investigation in December 2018. The FTC was looking into whether their privacy policy and advertising practices violated the Wiretap Act. In July 2019, they announced a settlement with the commission, which included promises to cease redirection of users and advise consumers that their activities would be monitored.
Aside from being a data collection tool for the free VPN provider, there's also the issue of injected ads.
While you're thinking, "I'll just use a free VPN to access US Netflix. What's the harm in that?," Your free VPN is busy inserting its own advertisements into the pages you want to view rather than serving you with what you requested.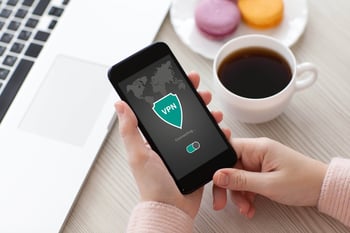 These are not simply bothersome, but they can be deadly. Many of these advertisements will redirect you to sites that may infect your computer with malware. Reputable VPNs do not include advertising on the websites you visit.
The worst offenders are free VPNs which have also been discovered to include backdoors that allow third-party access to your computer. This is a major security issue since it allows anybody with access to monitor everything you do online, including passwords and banking data you input while using the VPN.
The bottom line is that free VPNs are not safe and should not be used. If you're looking for a VPN solution, make sure to choose a paid provider that offers a high level of security and privacy protection.
What If You Have To Use A Free VPN?
If you absolutely must use a free VPN, here are a few things to look for:
- Open source code bases and not-for-profits
- Independent audits
- A provider that offers high-level encryption methods
- A provider that doesn't throttle your connection speed
- An ad-free provider
Paid VPNs Are A Better Solution
Yes, a paid VPN costs money but when you pay for a VPN, you're guaranteed:
- Modern encryption that will protect you and your data
- No logs policies, so no one is storing your online activity
- Faster speeds so you can stream movies, play games and enjoy the web without buffering
- Access to servers around the world
- Satisfactory customer support
Final Thoughts
Don't do it.
When it comes to selecting a VPN, the old adage "you get what you pay for" has never been more true. Free VPNs simply do not provide the same level of security, privacy, and performance as paid services.
If you're searching for a safe and dependable VPN service, make sure it has high-end security features and quick connections. How do you test this? Besides choosing a paid VPN, your best option is to take advantage of a free trial period.
Try reputable providers such as SurfShark VPN which also offer a free trial.
Remember, at the end of the day, the security of your confidential data and sensitive information is largely in your hands. Don't let a weak moment lead you to using a free VPN and endangering your identity and critical data in the process.