Amar Singh, CEO and founder of Cyber Management Alliance (CMA) and trusted cybersecurity advisor worldwide, delivered his keynote presentation "Tearing Down the Castle Walls – Strategies for the coming Cyber Age" at the TopConference 2017. The conference took place from 31st January to 1st February 2017 at the Veru Hotel Tallinn in Estonia.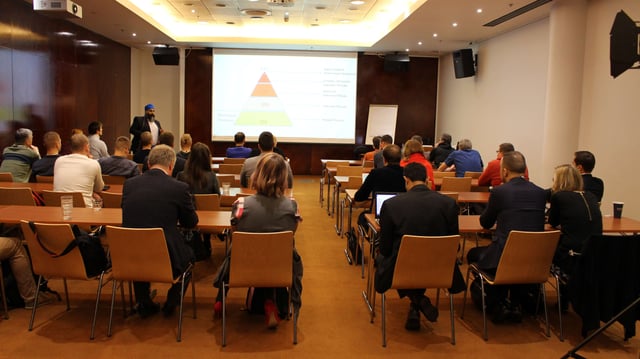 In addition to his presentation, Amar was part of a Roundtable panel alongside Joseph Carson from Thycotic, who chaired the panel, Adrian Davies from (ISC)2, Klaid Magi, Head of Cert-EE, and Siret Schutting, a cyber strategist. The panel discussion produced a lively debate around the topics of the security perimeter, hackers latest methods, staying secure and safe online, identifying potential threats, and raising cyber security awareness.
As part of the conference, Amar also conducted the popular Cyber Incident Planning & Response (CIPR) workshops the day before the conference. The CIPR course, a GCHQ-Certified, non-technical, immersive workshop, is designed to help businesses lower discovery time and developing a response team to deal with breaches and cyberattacks on critical corporate data.
Jesse Wojtkowiak, Information Security Officer at Pipedrive, was impressed with the CIPR course:
"A great course for management. The C-level in particular should understand how this works to gain support for this capability."
Juho Rikala, Director of Information Security at Fazer, commented:
"There was good materials and at times, lively discussion."
Further comments included:
"I was participating in Cyber Incident Planning & Response training. It was very interesting and I learnt a lot. I heard very good, practical tips. The trainer, Amar, was excellent. Thank you for this training."
"I participated in the Cyber Incident Planning & Response training. Amar gave us a very good full day and we learnt very new materials about some attacks which happened in the past. The sessions we had in groups were quite delightful and a good synergy. Thank you very much."



Why CIPR Training?
For non-techies as much as techies, CMA's CIPR course has been designed for senior management and business executives that want to learn and understand more about incident response, helping them to prepare and plan for potential cyber threats.
The GCHQ certified incident management course focuses on several topics including providing and understanding of the basic concepts of cyberattacks, data breaches, threat intelligence and intelligence-led testing. It also:
Shares the key ingredients to designing and implementing an effective cyberattack response framework.
Helps build a good understanding on how executives can plan for the various stages of an attack and build an effective cyber response team
Dives into the various business components and considerations to ensure a business is on the right side of the law and the upcoming GDPR regulations.
The CIPR course will enable delegates to prepare a managed and defined approach to a cyberattack or breach that will affect the confidentiality, integrity and/or availability of data. The course's trainer will share the latest methods used by hackers today as well as introducing intelligence-led testing, a combination of threat intelligence and traditional penetration testing that will give the delegates the right knowledge to respond to real world cyberattacks, as well as improving resilience to sophisticated cyberattack scenarios.


Delegates learnt a wide range of cyber security measures including:
The latest techniques and insights on incident response.
Threat intelligence-led testing and response frameworks that have been adopted by governments and institutions.
Planning and preparation of attack components; infiltration and post-infiltration entrenchment.
Exfiltration versus manipulation; pre-attack research, reconnaissance and target selection.
Designing an early warning system to lower discovery time; create actionable plans and checklists to use today.
The 'golden hour' and why it's critical to managing an incident.
The basic application of incident triage, OODA and the Diamond Methodology.
For more information on Cyber Management Alliance's CIPR (Cyber Incident Planning & Response) course, contact us today or book your place now.