Cyber Management Alliance (CMA) took their GCHQ-Certified Cyber Incident Planning and Response (CIPR) course to Switzerland on 15th December 2016, providing excellent training for a range of security and IT professionals wanting to learn more about preparing and planning for potential cyber threats.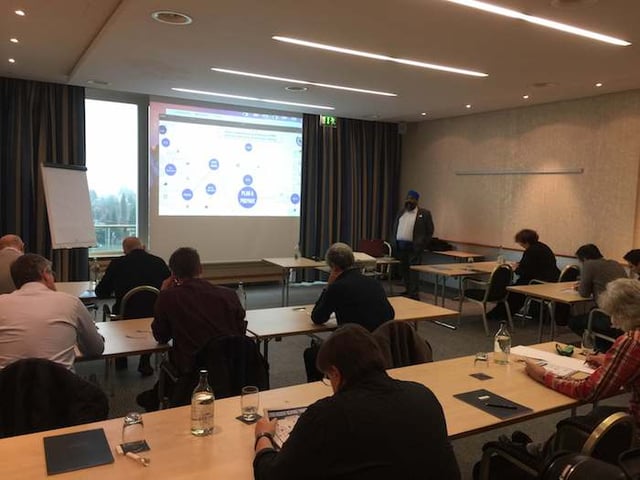 Organisations today are experiencing security breaches to their critical data and businesses are continuing to experience external and internal cyberattacks, with the majority of companies having to deal with some form of security incident that will need a measured and immediate response. CMA's CIPR course, which was recently awarded GCHQ Certification, is the perfect platform to learn how to prepare a managed and defined approach in response to a cyberattack or security threat.
Bal Rai, Managing Director at Cyber Management Alliance, commented "The course is proving popular in Switzerland with four more already scheduled for 2017."
Attendees to the CIPR training course in Switzerland included the Swiss National Bank, Repubblica e Cantone Ticino (a government entity), Zurich Kantonal Bank, die Mobiliar, Liechtensteinische Landesbank AG, Thurgauer Kantonalbank and UBS Card Centre.
Jonathan Cattaue from Repubblica e Cantone Ticino, was impressed with the CIPR course:
"Very prepared presenter. You could ask anything. Very controlled timing – very good. Great documentation tailored for a one-day course."
Michele Corletto from Zurich Kantonal Bank, said of the CIPR course:
"The understanding of the Cyber Kill Chain is an excellent base for developing counter measures."
Further comments on the CIPR training included:
"Thank you for this excellent workshop. The expectation was exceeded, especially the examples from incidents and hits." UBS.
"Brilliant course with lots of good examples. A course to recommend to any incident response team." Swiss National Bank

Why CIPR Training?
For non-techies as much as techies, CMA's CIPR course has been designed for senior management and business executives that want to learn and understand more about incident response, helping them to prepare and plan for potential cyber threats.
The GCHQ certified incident management course focuses on several topics including providing and understanding of the basic concepts of cyberattacks, data breaches, threat intelligence and intelligence-led testing. It also:
Shares the key ingredients to designing and implementing an effective cyberattack response framework.
Helps build a good understanding on how executives can plan for the various stages of an attack and build an effective cyber response team
Dives into the various business components and considerations to ensure a business is on the right side of the law and the upcoming GDPR regulations.
The CIPR course will enable delegates to prepare a managed and defined approach to a cyberattack or breach that will affect the confidentiality, integrity and/or availability of data. The course's trainer will share the latest methods used by hackers today as well as introducing intelligence-led testing, a combination of threat intelligence and traditional penetration testing that will give the delegates the right knowledge to respond to real world cyberattacks, as well as improving resilience to sophisticated cyberattack scenarios.
The Course Topics
Delivered by a FTSE 100 CISO with over 15 years' experience in cyber security and using the latest methods in preparing and responding to cyberattacks, delegates learnt a wide range of cyber security measures including:
The latest techniques and insights on incident response.
Threat intelligence-led testing and response frameworks that have been adopted by governments and institutions.
Planning and preparation of attack components; infiltration and post-infiltration entrenchment.
Exfiltration versus manipulation; pre-attack research, reconnaissance and target selection.
Designing an early warning system to lower discovery time; create actionable plans and checklists to use today.
The 'golden hour' and why it's critical to managing an incident.
The basic application of incident triage, OODA and the Diamond Methodology.
For more information on Cyber Management Alliance's CIPR (Cyber Incident Planning & Response) course, contact us today or book your place now.