Cyber Management Alliance's new, innovative series of Wisdom of Crowds events headed to fabulous Burj Al Arab in Dubai on 4th May 2017 for their inaugural annual conference – 'The Perfect Rabbit Hole – Delivering an Effective and Responsive SOC'.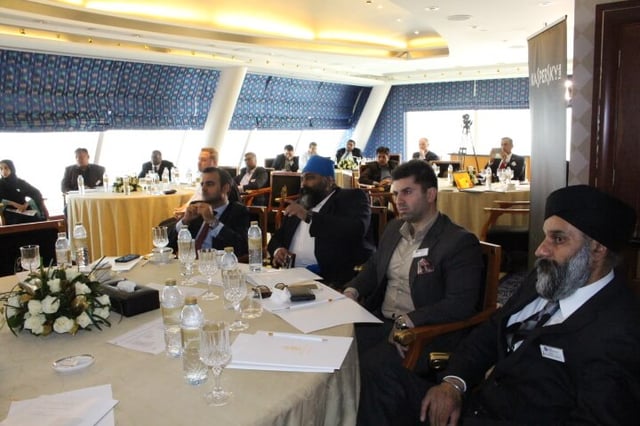 Wisdom of Crowds is a new, exciting and innovative concept from cyber security professionals, Cyber Management Alliance. It is a series of events that offer cyber security professionals the opportunity to collaborate, create and distribute their valuable knowledge and experience with like-minded colleagues. The events are based on the principle that the 'wisdom of many surpasses the knowledge of a single or few'; and our inaugural conference in Dubai was no exception!
The conference took place at the distinctive sail-shaped Burj Al Arab Jumeirah hotel, the epitome of luxury, service and magnificence, and welcomed attendees from government, financial and professional entities to share their insights on cyber security, listen to informative talks, taking part in lively discussions, and enjoying the spectacular views!
Focusing on the necessary technologies, processes, policies and skills needed to create an operationally-efficient and highly-automated Security Operations Centre (SOC), the conference at Burj Al Arab in Dubai brought together leading practitioners in the industry including attendees from Mastercard, HSBC, the Jumeriah Group, NBAD, the Bank of Farsi Saudi, RAKbank, Emirates NBD and Etisalat, as well as guests from Bahrain and Oman.
Our Platinum sponsors, CREST, together with Gold sponsors, DFLabs and Kaspersky, and Silver sponsors, Advanced Cyber Solutions, joined attendees in aiming to show that creating a SOC with highly-skilled staff that are passionate about security that detects sophisticated attacks, in real time, and responds quickly and efficiently is achievable.
An opening keynote presentation from Dhiraj Sasidharan, Director of IT Security at Dubai Holding, discussed the operating of an SOC in the world of the Internet of Things (IoT), the Cloud and roaming endpoints; focusing on the challenges of moving to a risk-based and data centric approach.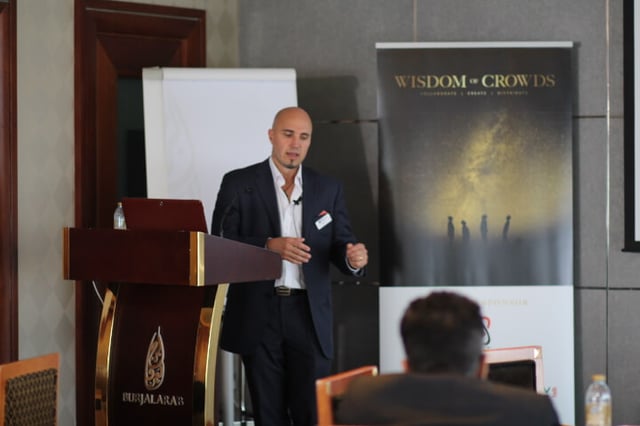 Rowland Johnson discussed the use of simulated targeted attacks to improve SOC efficiencies, based on Simulated Target Attack and Response (STAR) frameworks designed by the UK's CREST and on Bank of England's CBEST framework. Rowland debated how Cyber Threat Intelligence can be used to build real world playbooks of attack scenarios, as well as how it should be highly tailored and relevant to your organisation. He also explained that despite the validity of using Vulnerability Assessments and Penetration Tests, businesses C-suite executives don't focus on this area of security and assume it is a technology-centric exercise.
Tushar Vartak, Director of Information Security at RAKBank, highlighted to attendees that despite having dedicated SOCs, current world threats are evolving faster than SOC toolkits and skill sets. He explained that in current budget restraint climates, some technologies can be used to help you get ahead of threats. He also explored threat analytics, new SOC capabilities and the new tools that are available.
The afternoon session included a presentation from Amin Hasbini, from sponsors Kaspersky Labs and a member of their GReAT Team, reviewing the latest TRUE advanced threats targeting the Middle East. Dario Forte, from presents DFLabs, talked about the benefits of security automation and orchestration for CISOs, why unattended and unconditional automation is a path and not a turnkey, and he also shared the results of a CISO Survey on the topic of security automation and orchestration based on Supervised Active Intelligence.
CREST and Rowland Johnson discussed how despite SOCs becoming the preferred approach in detecting and responding to cyber threats, many attacks remain undetected, the way in which threat actors still infiltrate systems and datasets, and why SOCs need to mature in order to be effective at detecting and responding to many different threats.
At the end of the day, attendees, sponsors and guests were invited to drinks in the Scape Bar followed by a superb dinner held in the spectacular Naya Restaurant, the latest addition to the Jumeirah Beach Hotel that blends classic and contemporary North Indian cuisine.
With the backdrop of fabulous views, attendees were involved in lively discussions and enjoyed informative presentations from Amar Singh of Cyber Management Alliance, as well as guest speakers.
"We are happy to be here at Wisdom of Crowds 2017 in Dubai as we strongly believe that cyber security in the UAE is becoming a priority, and went want to be here." Dario Forte, DFLabs
"I would like to thank Cyber Management Alliance for conducting a fantastic event today, called Wisdom of Crowds, connecting professionals for SOC, enhancing tools and working together as a community. We should have more of these going forward." Hadi Anwar, Abu Dhabi Bank
"The event was fantastic, lots of information about the cyber security network and I really, really believe in this market and technology. A lot of companies need this information; it's really valuable, so I highly, highly recommend you guys come and attend this event."
"A good thing about the event is the opportunity for people to engage on a one-on-one basis. Today's been a good and intimate session and there's been some really good dialogue, both in the sessions back and forth, and in the breaks. I would absolutely recommend that people come along, get involved, be prepared to contribute, and you'll get huge amounts of value from day's like today."
For more information on future Wisdom of Crowds events, become a sponsor or would like to attend a Wisdom of Crowds event, click here or contact us today.