Wisdom of Crowds just concluded another one of its super-successful events in London's Sofitel Piccadilly on November 13, 2019.
Packed to the rafters, the event saw participation from the brightest minds from the realms of cybersecurity and data privacy. Like other Wisdom of Crowds gatherings, this one, too, was based on the premise that, "the wisdom of many surpasses the knowledge of a single or few". And just like all other WoC events, this edition was also replete with knowledge-sharing, learning, collaboration and of course, generous doses of fun!
"The very concept of the Wisdom of Crowds is that the Wisdom of Crowds far exceeds the experience of one or a few."- Amar Singh, CEO, Cyber Management Alliance.
Demisto (A Palo Alto Networks Company), Tata Communications, Link 11, ALSID and ThreatConnect were the chief sponsors of the event. The overarching theme for the sessions were – Cyber Resilience: The CXO Handbook to a Modern Cyber-Resilient Business. Amar Singh, globally-acknowledged cyber crisis and data security management expert and CEO of Cyber Management Alliance, conducted the entire event in his special interactive and engagement-led style.
He geared up the attendees for the day with his welcome address on 'Taking the Fight to the Cyber Criminals'. His talk focussed on taking the internet back from cyber criminals with some hard decisions, and sure enough, this set the tone for the rest of the sessions that followed.
The CTO of ALSID, Luc Delsalle, then delivered a really insightful presentation that had the attendees hooked – The Untold Story of 10 Years of Failure & How to Emerge Stronger. Luc talked of his past before founding ALSID and the large-scale incident responses and multiple red-team security assessments that he led at ANSSI, the French National Agency responsible for cyber-defence matters.
The next knowledge-sharing session was on automation and orchestration, titled SOAR101 by James Stevenson, Regional Sales Manager of Demisto. He shed light on how SOAR (Security Orchestration Automation and Response) tools can fill critical gaps in the incident response lifecycle. Avinash Prasad, VP & Business Head, Managed Security Services at Tata Communications talked about driving security agility and response through integrated platforms. He shared examples of the impact of automation on threat life-cycle management and ultimately on security outcomes. Joss Penfold, Regional Director, UK, delivered the keynote address for Link 11. He showed attendees how an integrated cloud security platform with machine learning, automation and real-time defence is crucial to providing holistic protection of IT infrastructures and critical applications and to strengthen cyber resilience.
Amidst all these sessions were also a bunch of fun group activities such as the Wisdom of Crowds Signature Brainstorm session wherein delegates were split into groups which each group tasked to develop actionable usable collateral. In the Signature- Let's Create activity, groups of delegates created collateral like checklists based on the topic of the day, which could just as well be applied to their organisations after the event was over.
Wisdom of Crowds events are so unique because of their intimate and interactive nature where everyone who is passionate about a subject gets to talk about it. This edition in London was particularly special because of some of the themes it touched upon, such as diversity in cybersecurity and autism in cybersecurity. Katarina Puschmann, an IT Risk and Controls Specialist at Metro Bank, spoke about how she has managed to make a mark in the Information Risk Management space after working in admin and HR roles in the initial years of her career. Her story was encouraging for those who often feel that without a deeply-technical background, it is impossible to understand these complex topics and build cyber-resilient organisations.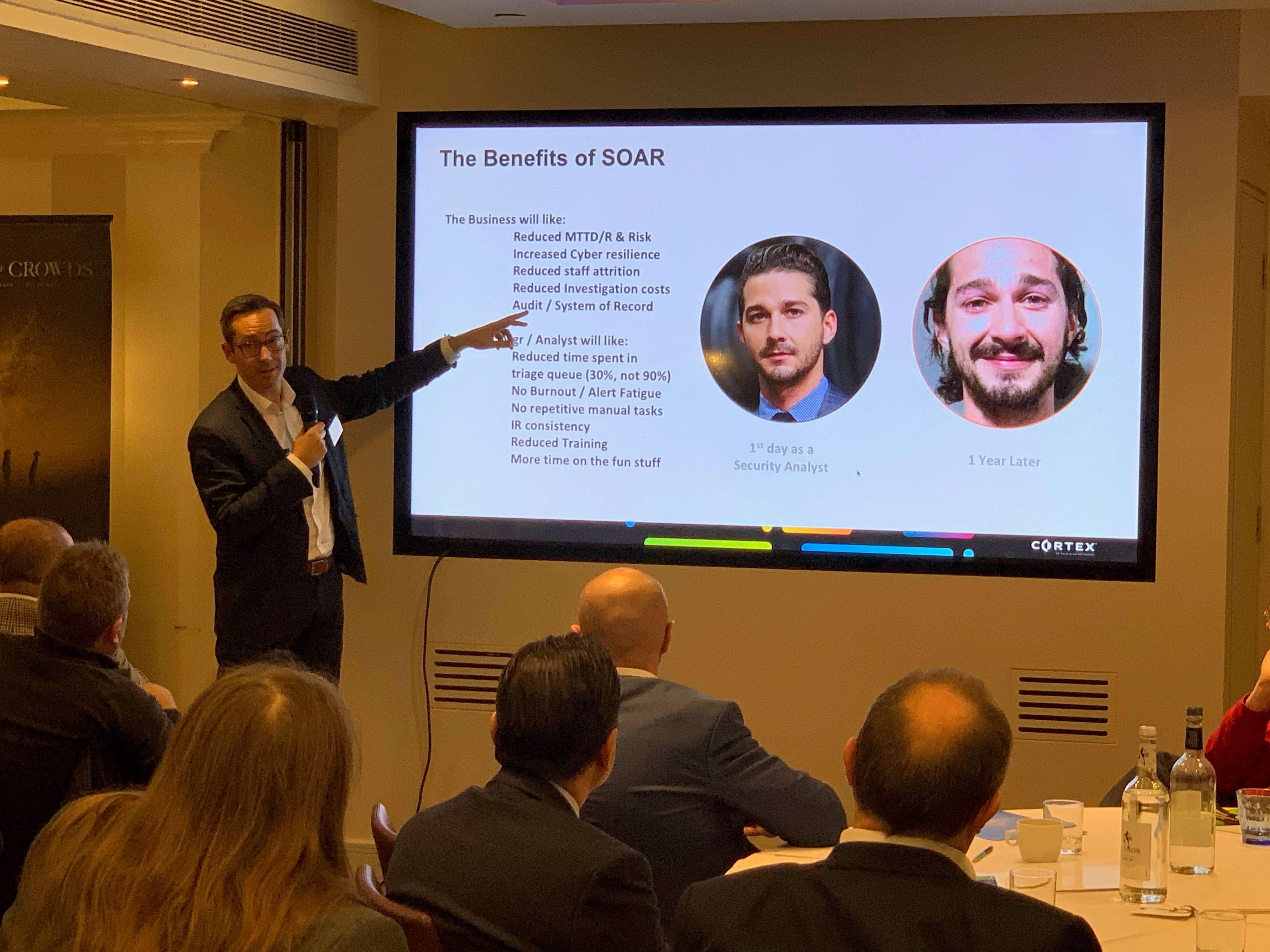 A one-of-its kind subject that this WoC event brought up was 'the spectrum of autism - having autistic people working in security'. Piers Tuson, one of the attendees, shared his experience of dealing with Autism and how the condition actually proved to be a strength when it came to mastering the ropes of cybersecurity. This session wasn't just eye-opening for a lot of delegates, it also encouraged others to share their experiences in dealing with Autism.
---
Here are some comments from the attendees of the Wisdom of Crowds event in London. Take a look at what they had to say and make up your mind about attending the next WoC event in your city!
"What a genuinely interactive, unique and enlightening event Wisdom of Crowds is. Honoured to attend today, thanks to Amar Singh, Bal Rai and the diverse range of speakers and attendees who all made it such a worthwhile day."
- Angus M., Head of Cybersecurity, King's Service Centre

---
"It was again a marvelous Wisdom of Crowds event, which has taken place in London City today. We have had a full house and a lot of great sessions and good informative presentations from our sponsors as well as many, many marvelous sessions from others about "Insider Threats" and other topics. This time, the session about "The spectrum of autism - having autistic people working in security" made me really think, because I was never engaged in this topic before, but the session was very, very interesting and a real eye-opener"
- Marcus Burkert, Senior Information and Cybersecurity Consultant, ISPIN AG

---
Cyber Management Alliance also hosted a few students from Sheffield Hallam University at the Wisdom of Crowds event this time. This is what their professor had to say:
"Many thanks to Amar Singh who funded the three bright students, Raymond Mawanda, Jade McDonald, and Anton Winters, of the cybersecurity with forensics course at Sheffield Hallam University to attend the Wisdom of Crowds event today. This was their first professional external event, met many great professionals from the industry and had a fantastic learning experience. Amar, I am very grateful for this generosity."
– Shahrzad Zargari, Senior Lecturer & Course Leader in Computer Security with Forensics at Sheffield Hallam University
---
For more information on future Wisdom of Crowds events, sponsorship opportunities or participation in a Wisdom of Crowds event, click here or contact us today.
For more information on Cyber Management Alliance, ISO 27001 Certification, our Live Online CISSP Training & Mentorship program, GDPR consultation and workshops, and other courses, webinars, the Wisdom of Crowds live and virtual events, and the Insights With Cyber Leaders series of executive interviews, click here or contact us today.