To say it's a challenge studying for the coveted and respected ISC2's CISSP when you are in your full time job and have family commitments is an understatement. I have gone through this journey of preparing for CISSP alongside a full time job with one of the Big 4 firms. It's not easy and I wanted to share the approach I pursued that helped me clear my CISSP exam successfully.
Key message from this blog
It is all about being committed, motivated and constantly mentored.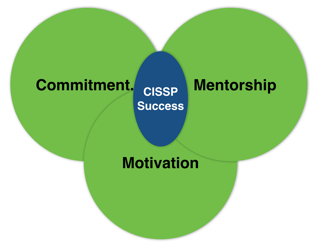 ---
You may consider the following approaches to studying for CISSP:
Try reading and learning from a paper, flashcards or books.

Allocate your best one hour of the day to studying - it maybe the morning, afternoon or evening.

Commit to and maintain your reading speed - not easy but it helps.

Watch videos, seriously! Read further down for more information.
Create a CISSP study plan.
Find a mentor or join an online mentorhship program.
The Smart approach to studying for CISSP working full time
There is no one solution that will suit everyone who is reading this blog. I will share a few approaches that I followed during my study for CISSP while working full time.
Read from a paper or book and not from computer screen: Even today, many folk are not able to study from digital screens.

It is ideal to print out CISSP domains or buy the original book hard copy (refer to blog

Click here

for which books to read). You will see a big difference in terms of your reading speed.

Allocate your best one hour of your day to CISSP:

Never study for CISSP when you are feeling sleepy, just after you had your meal or just back from office. I studied CISSP every morning 6.00 - 7.00 am. In addition, try to commit to four hours in total on Saturdays and Sundays.

Commit to your reading speed:

The objective is that you read the CISSP book once in full. You must commit to reading X number pages an hour every day. If I talk about myself, I am not a fast reader and thus I committed to twenty pages of ISC2 Official CISSP book an hour every day.

Watch videos: seriously, t

his approach really works. I completed some 60 hours of CISSP videos during my office commute.

Create a study plan:

CISSP study is like skimming a layer of ocean and you build up your Information Security knowledge-base. The ISC2 book has approximately 1,200 pages. It is good to create an excel spreadsheet study plan. Allocate the exam date after around four months and fill in dates backwards until today. Now write your thoughts as to how you would like to study in the next four months (which twenty pages of which book, etc.). Contact us for a free consultation with our CISSP trainer and we can help you create a study plan for you. Email us at

info@cm-alliance.com
Find a Mentor for CISSP:

Seek out and connect with at least one person who is already CISSP. This approach really helps as you do not carry forward your doubts for long and they are cleared as early as possible. Alternatively, you can join our own Mentorship Program. Find more information

here.
Other blogs of interest:
Comparision of CISSP old and new syllabus - Click here
Success Mantras for passing your CISSP exam in first attempt - Click here
Claim your Free Online CISSP Mentoring Two Hour Session today (Yes, absolutely free, no obligations) click here
More information on Cyber Management Alliance's CISSP Flagship Mentorship Program and to register for 1 Free CISSP Mentorship Online session – click here
About the writer:
The author is a professional CISSP trainer within CMA training pool. He is CMA's CISSP/CISA/ISO 27001/SOX/Information Risk Management/SAP Cyber security trainer. He has an MBA (Finance), Computer Engineering, CISSP, CISA, ITIL (expert), COBIT (foundations), and SAP security qualifications.
If you are interested in exploring our CISSP mentorship classroom program details – please contact us at info@cm-alliance.com