It was the turn of the police force to improve their knowledge about cybersecurity as they attended Cyber Management Alliance's flagship one day GCHQ Certified 'Cyber Security & Privacy Essentials' (CSPE) training course. In association with the University of Wolverhampton and the National Cyber Skills Centre, West Mercia Police and Warwickshire Police turned out in 'force' to enhance their cybersecurity knowledge and learn more about the business context about cybersecurity.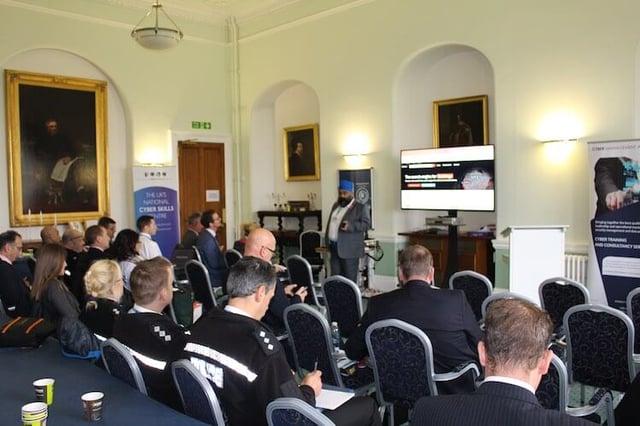 Held at the West Mercia Police Headquarters in Worcester, attendees of the one day 'Cyber Security & Privacy Essentials' training course learned of the rise in cyber-attacks on organisations and that raising awareness is key to increasing security – it is no longer the remit of the IT department; it is everyone's responsibility. The cyber fundamentals training, CSPE, provides participants with the essential knowledge and understanding needed to build a solid foundation from which to drive information security awareness throughout the business.
Course Topics
The areas covered by the one-day Cyber Security & Privacy Essentials course include:
Information governance.
Controls and risk.
Methodologies and motivations.
Policies and standards.
Supply chain management.
Legal, data privacy and regulations.
The cloud.
Application security.
Safe and secure.
Top Ten Threats 2016.
What Was Learnt
Cyber Management Alliance's highly experienced, GCHQ certified trainer demonstrated to the police attendees the impact on a business that's been targeted by a cyber breach and other real-world attacks. They also gained a better to understanding:
How to reduce business risk exposure as well as reduce costs whilst increasing overall security.
How good information security practices can help to generate money and business opportunities.
Protection, Detection and Response – the areas that need to be focused upon.
Identify the real threats to the organisation and how to address them.
The Top 10 Cyber Threats in 2017.
Paul Crampon, Crime Reduction Co-ordinator at West Mercia Police said: "Having attended the cyber security awareness course, there is nothing scary about it at all. Very interesting input particularly for businesses in a non-technical way. I strongly recommend this course for anybody."
Charmaine Woolley, Cyber Crime Co-ordinator at West Mercia Police responded: "I really enjoyed the session, which I found informative, relative and thought-provoking. I left with a personal itinerary of "to do's" to ensure that my digital footprint is as secure and/or robust as possible."
Steven Wright from the National Cyber Skills Centre added, "The course delivers a really solid understanding of the issues facing every organisation in the area of cyber security."
For more information on the 'Cyber Security & Privacy Essentials' training course, contact us today or book your place now.