Google, F1 etc. enhance their Cyber Incident Response capabilities
Date: 31 March 2021
Cyber Management Alliance has recently added some of the world's most prestigious organisations including Google, Formula One, Sony, BAE Systems, Citibank, AstraZeneca, Unilever, Walkers, Capgemini, Invesco, First Citizens Bank Ltd, GE Healthcare, Bharti Airtel, the NHS, Dubai Health Authority, Brentwood Council and the Essex County Council to its client portfolio.
Cyber Management Alliance has consistently been at the forefront of providing global organisations specialised operational and strategic cybersecurity training.
With the overall objective of reducing the risk exposure of the global business community and mitigating the business impact of cyber-attacks and events, CM-Alliance has trained some of the largest and most prominent organisations in the world in cyber incident response, crisis management and incident response playbooks. Recently, it has added a long repertoire of global giants to its prestigious client portfolio.
CM-Alliance has trained organisations across industries and geographies, both through private internal workshops and through public training courses. Some of the most prestigious organisations that have recently conducted private internal workshops for their staff in CIPR include UBS Card Centre, Formula One, Airtel, the NHS, Dubai Health Authority, Brentwood Council and the Essex County Council.
Tom Maguire of the Braintree District Council summed up his experience with the training: "The CIPR course was extremely useful in broadening my understanding of dealing with cyber incidents and has given me the necessary tools to improve our response to a cyber incident. Amar Singh was an extremely passionate and motivating instructor and I highly enjoyed the course."

One of the participants from a financial institution in Switzerland, Marcel Fehr, said, "The course manages to make the key topics and their challenges very transparent to the audience and this is done in a very interactive and not boring session. I would instantly book again."

"The course was really interesting, great to engage with other Trusts. Nice balance of interactive group work. I have already recommended that another member of my team come on the course," said Nicola Currall of the East Sussex Healthcare Trust.
The flagship NCSC-certified Cyber Incident Planning and Response course of CM-Alliance is also offered as a one-day public training. Recent attendees of the public training course have been from companies as diverse and reputed as Google, Sony, BAE Systems, Citibank, AstraZeneca, Unilever, Walkers, Capgemini, Invesco, First Citizens Bank Ltd, GE Healthcare, M&G Prudential, Trinidad and Tobago Defence Force, Wipro and Best Buy.
"Gained a lot of knowledge around Cyber Incident planning and response, which is one of the crucial parts for any cybersecurity team. The course emphasized on early detection and persistence of threat actors, which was a great take-away for me. Secondly the Mind Map offered precise information at a glance that will help me build and mature the Incident Response plan in my organisation. I found it really insightful and interesting, as expected," said Ankur Belel of Capgemini.
Cyber Management Alliance also offers every delegate who attends its training the option of becoming certified in CIPR by successfully passing the APMG International examination of the NCSC-Certified Cyber Incident Planning and Response training. The exam is administered by APMG International and is invigilated by ProctorU which provides secure live and automated online proctoring services for academic institutions and professional organisations.
Upon passing the examination successfully, each delegate receives a digital badge issued by youracclaim.com, the world's most trusted digital credential network for professional associations and corporate learning. The badges are secure, digital representations of professional development credentials. Many of the participants in the recent NCSC-Certified CIPR workshops opted to take the optional APMG International examination.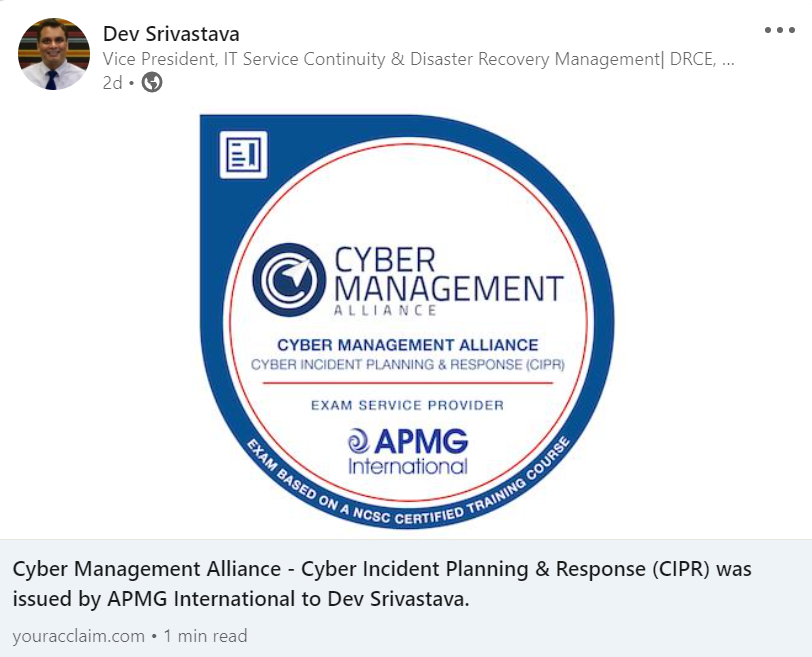 The Building and Optimising Incident Response Playbooks one-day training is one of the most sought-after courses offered by CM-Alliance. It teaches attendees how to create actionable incident response playbooks to respond to a variety of simple and complex cyber-attacks and data breaches.
DIFC Dubai, HCL, YASH Technologies, Catalyst Business Solutions, Walkers and Unilever recently trained their staff in Incident Response Playbooks with CM-Alliance.
Christopher Rajasekar of HCL Technologies said, "Simply awesome session with excellent industrial content & great learning."
To know more about our NCSC-certified CIPR training, click here.
To know more about our Incident Response Playbooks training, click here.