Cyber Threats in Digital Marketing - Protect Your Business Online
Date: 9 March 2023
The Internet provides excellent opportunities for business development and promotion. But at the same time, it brings its fair share of cyber security risks.
Unfortunately, sometimes business owners and digital marketers underestimate the potential threats that cyber crime poses to their business in the digital realm. Many also inaccurately assume that cyber attacks mostly only target organisations in critical infrastructure and/or banking and financial sectors.
However, this is far from the truth. If recent cyber attacks, data breaches and ransomware attacks teach us anything it is the fact that no industry and/or business is immune to the wrath or greed of malicious actors.
It is, therefore, imperative that teams other than IT and Incident Response are made aware of the cyber threats to their organisations. Digital marketing cybersecurity threats, in particular, must be taken into account in any marketing strategy. Digital marketers must be trained in how their function could open the organisation up to a wide range of risks like phishing attacks, DDoS attacks and especially social engineering attacks.
It is important that digital marketers understand the implications and risks associated with several actions they may be taking for promoting their business and/or clients. For example, link building is a great way to promote a brand's website. However, it is essential that marketers use a legal guest post service when looking at building backlinks.
Cyber Threats in Digital Marketing
Before delving into cybersecurity best practices for digital marketers, let's take a look at the possible threats in this space. The most common ones are:
Viruses, malicious code or malware
Browser redirects
Phishing attacks to access private data
Identity theft.

As you can see, the range of opportunities for digital criminals to compromise your business and/or its sensitive information is impressively wide. However, the good news is that there are plenty of measures you can take to ensure the safety of your marketing endeavours.


Important Cyber Security Measures for Digital Marketers
1. Create a Safe Workspace
Since the pandemic, employees of several organisations work from home. Numerous companies don't even have a physical office anymore. This saves them a lot of money and allows specialists to work in the comfort of their home offices flexibly. But with convenience come significant risks.
Without proper security solutions, cyber criminals can easily gain access to your employees' credentials and thereby enter your organisation's servers.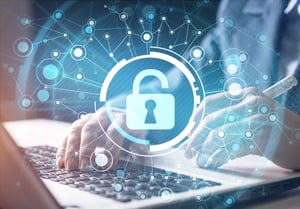 To prevent network security from getting compromised, modern businesses are increasingly opting for solutions like Cloudbric RAS which allows them to create safe remote access and block hackers in early stages, keeping business data safer. The most significant benefits of this solution are:
Easy set up without installation
Two-factor authentication for users leading to better security
Traffic monitoring
Convenient web interface for employees and managers

In short, this solution allows specialists to work from home and neutralises the threat of unauthorised access on computer systems to a great degree. The constant monitoring of traffic allows for spotting the threat within the network and shutting down this activity before it's too late.
From a security point of view, it's also better to exclude use of personal devices for official purposes. But this can often be difficult and expensive. So a better alternative is to ensure your marketing team has quality antivirus software installed in their devices.
Linking all the devices to the centralised server can help to spot suspicious activity in the early stages. The employees need to know what to do in case of loss of the device in order to notify you in time.
Several security-focussed businesses have also begun to understand that in the age of remote working, it is necessary to act like you probably will get attacked. That's why it's imperative to have a strong and effective Cyber Incident Response Plan in place. Using a FREE incident response plan template created by cybersecurity specialists and customising it for your business is a good place to start from.
2. Focus on the Human Factor
Security breaches most often occur because of an employee's inadvertent error or lack of knowledge. It is critical to start investing in high-quality cybersecurity training for your staff. All employees must be made aware of how to spot suspicious activity and the consequences of unauthorised access to their systems or emails.
Your employees have to know what to do in case of a mistake to save the situation and not make things worse. Of course, regular training in cyber incident response can go a long way in achieving this objective. Marketing heads and management teams can also be made aware of organisational threats and risks through regularly-conducted Cyber Attack Tabletop Exercises.
These are some of the important factors you need to look at if you want to ensure you find the right passwordless authentication platform for the needs of your business.
3. Practise a Responsible Approach to Emails
Email marketing still has a lot of potential for building a client base and promoting the business. It is, however, also a source of threat. Hackers can imitate trustworthiness to get the data they want to protect. Such attempts get more and more sophisticated, and the methods of intruders develop with the technologies.
It means that your email marketing team should be aware of possible dangers and know how to detect suspicious messages. They should know how to recognize phishing attempts through indications like strange attachments, asking for credentials and login information, and poor grammar. Make sure your employees have proper training and know what to do in these situations.
4. Be aware of the Dangers of Social Media
Today, digital marketing is impossible without social media. The potential of these networks is incredible, but unfortunately, they're as beneficial for criminals as they are for digital marketers.

An attack on a business account is especially dangerous. Malevolent intruders can access sensitive data, contact clients to steal their money or personal information, and completely ruin your business reputation. The last point is the most important because brand reputation is hard to build and even tougher to restore.

The level of risk rises when multiple specialists log into one account from different devices. It makes it easier to steal the credentials and complicates finding the source of the compromise. The best solution for this problem is to use a tool for account management, allowing centralised control and detection of suspicious activity.
4. Maintain Safety of Communications
The platforms for communications with customers are meant to facilitate the process for both sides. But they also create a gateway for hackers. Usually, such platforms contain a lot of personal data, such as names, payments, and login information.
Any breach of security will cause irreversible damage to your reputation as well as significant monetary loss. It means that you should pay additional attention to this extremely important area.
Here are the measures you can take:
Revise the infrastructure on your end and implement all necessary safeguard precautions
Use only the latest CRM software from reliable developers
Make frequent risk audits to spot the weak points at the very beginning
Ensure that your entire team is using secure passwords
These simple steps can help prevent major losses, and you should first take care of a strong firewall.
5. Be Aware of WordPress Vulnerability
WordPress is one of the most popular platforms for content management. This platform with a user-friendly interface is convenient and highly advantageous for all digital marketing endeavours.
But remember that nothing great in the digital world comes without possible threats. The major danger is malicious software installed with third-party plugins.
To prevent this, utilise software only from official sources or from trustworthy developers.
To decrease the risks, always install all the updates for WordPress software in time. They come with up-to-date security packages and ensure better protection. Multifactor authentication is also recommended. It significantly cuts the risk of third-party access.


Conclusion
Digital Marketing has become almost indispensable to the success of most businesses today. It does come with its fair share of problems. But with proper security and a responsible attitude, you can certainly ensure that your business stays safe.
To summarise, here are the most important recommendations:
Use only modern and quality software from reliable sources.
Ensure your personnel is trained in understanding and handling digital threats.
Implement a responsible approach to data management.
Use modern and effective solutions for secure remote access.
Following these guidelines significantly decreases the risk of unauthorised access and keeps your clients' data safe.
If you still feel uncertain about your business security and the safety of your digital marketing endeavours, opt for a cost-effective service like the Virtual Cyber Assistant service which can help you evaluate your cybersecurity posture and help you plug the gaps that exist in our current practices.